Applied Behavior Analysis is the scientific, systematic and evidence-based methodology for teaching skills, reducing problem behaviors, and enhancing the social and academic life of an individual. ABA can be used to teach a multitude of skills and behaviors including communication, academics, social behaviors, and self-help skills, and to promote independence and more.

Is my child too old to start ABA?
There is no age limit at which time ABA can be started.
Research shows that results are more profound if therapy is started in the first 3 years of a child's life.
ABA can help teach individuals of all ages and all functioning levels.






What are therapy sessions like?
The therapy sessions can last anywhere from 1 to 3 hours.
The sessions begin with the therapist having created a plan for the session and reviewing past data to ensure that the session builds on past skills from previous sessions. After a review of the data, the therapist spends some time playing with the learner and then seamlessly moves into therapeutic activities. A lot of the therapeutic activities continue to look like play or activity in which the learner prefers to engage.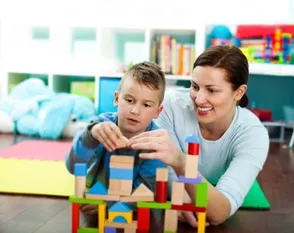 What kind of credentials do the therapists have to have?
The 1:1 therapists do not have to be credentialed or licensed as long as there is a Board Certified Behavior Analyst (BCBA) creating the therapy plan and supervising the therapists and the program.
The leader of the therapeutic team should have a BCBA designation and should be actively involved in the creation and maintenance of the learner's program.
Do we accept insurance?
Yes. ABA Midwest Education Ltd is in network with most major insurance providers including Blue Cross Blue Shield.